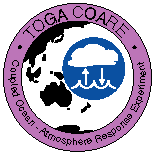 Volunteer Observing Ships (VOS) in COARE
This site provides the original VOS observations as recorded by the Global Telecommunications System (GTS) and provided to us by the TOGA-COARE Project Office at NCAR.

These data have not been quality controlled or otherwise processed by this DAC. Download a gzip'd tar file containing all of the VOS reports for November 1992 thru Febuary 1993.

The README file, included in the above archive. Short, but provides some more detail.