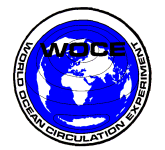 NO DATA AVAILABLE:
Data provider reported to the DAC that no meteorological data are available for this cruise. In most cases, this means no meteorological data were collected. In some cases the data have been damaged or lost.
Sincerely, DAC data manger
Further information on WOCE-MET Web pages can be obtained by mailing:
wocemet@coaps.fsu.edu.