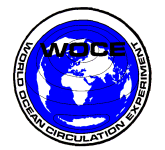 View the FSU/COAPS Research Quality Tropical Pacific Pseudostress Analyses
NOTICE: effective with March 2002, quick look product fields will be produced using a new objective method. See OBJECTIVE FSU WINDS page for 1978-2000 objective reanalyzed fields. No subjective research products will be made for years after 1999.
---
View the plots for the analysis.
Make a single selection for a particular month and year. You may have to "Refresh" your browser to correctly display the image.
---
FTP the yearly analysis files
---
Download the analyses and climatologies in NetCDF format
Analyses for 1961-1999 (4.72 mb) updated:3/1/04 to fix time unit in nc file
Climatology for 1961-1992 (120.5 kb)
Climatology for 1966-1985 (120.5 kb)
---
Further information on WOCE-MET Web pages can be obtained by mailing: wocemet@coaps.fsu.edu.

Last Modified: Mon, 1 March 2004