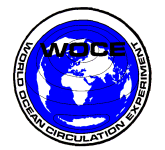 WOCEMET Cruise Maps
---
WOCEMET has taken great effort to allow you access to the data you need as quickly as possible. At the heart of this effort are our data maps. Using the data maps we have provided, it is possible to visually determine the appropriate cruise track code for a particular region on the globe. The desired CTC can then be used on the table pages to find the desired data.
Global Maps:
A complete map of all crusies.
A map of all one-time (cruise tracks only traversed once) cruises.
A map of all repeat (cruises tracks traversed multiple times) cruises.
Atlantic Ocean Map
Indian Ocean Map
Pacific Ocean Map
Southern Ocean Map