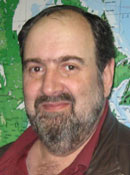 Assistant in Research
Center for Ocean-Atmospheric Prediction Studies
Rm. 256
(850) 645-9832 phone
(850) 644-4841 fax
This email address is being protected from spambots. You need JavaScript enabled to view it.
At COAPS I am working on model coupling using HYCOM, ROMS, SWAN, WAVEWATCH III, WRF, and CESM. My specific research areas include:
code development for hydrodynamics, waves, sediments, etc.
developing a prediction system for the Gulf of Mexico using coastal and offshore multi-model components
incorporating advanced wave-current interactions in the developed modeling systems
sediment transport.
I am originally from Greece and received my BS in Agricultural Engineering from the University of Thessaloniki, and my MS and PhD in Coastal Engineering from Ohio State University.