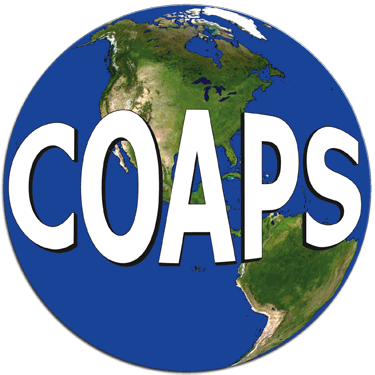 Why Invest in COAPS?
The motivations of donors are as varied as the programs their gifts support. While unrestricted gifts allow COAPS the greatest flexibility to allocate funds where they are most needed, you may opt to designate your gifts to specific programs or activities, particularly those that directly benefit students and faculty. Whether you decide to make an annual gift or create an endowment, your investment helps COAPS remain a center of excellence.
---
General or Designated Giving
You can give to COAPS' general development fund and provide support wherever the gift is needed most. Or, you can designate your support for the professional development of COAPS students or to fund research at COAPS:
Agriculture
Alternative Energy
Climate Studies
Extreme Weather Events
Marine Meteorology
Ocean Modeling
Remote Sensing
Risk Assessment
---
Honorary and Memorial Gifts
You can make a gift supporting COAPS in memory or honor of a favorite professor, student, relative, or friend. Making an honorary or memorial gift is a generous and thoughtful way to recognize a person's life and accomplishments. When you make an honorary or memorial gift to COAPS, we will notify the honoree or next of kin and administer the gift as you direct. Honorary and memorial gifts may be made by printing out a gift form to mail in, online via the FSU Foundation's giving site.
---
Annual Giving
Ongoing, sustaining gifts enable COAPS to embrace opportunities, meet challenges, and operate annually. Annual gifts offer a unique opportunity for alumni and friends to ensure the continued success of COAPS. Your gift today ensures our Center's success tomorrow. You can help COAPS maintain its standard of excellence. Through annual gifts, you may choose to designate your support for students, faculty or research in any of the Center's programs or units. These gifts provide crucial funds: a pool of resources that can be quickly and easily used by COAPS to address opportunities and challenges that fall outside of normal budgeting parameters. Annual gifts are used in the current operating year, providing discretionary funds for allocation where they are most needed. This kind of flexibility allows colleges, programs and units to maintain their high levels of success. To make an annual gift, simply write a check made out to "The FSU Foundation" specifying "COAPS" in the memo line, or click here to GIVE NOW online.
---
Establish an Endowment
Funds are invested and only the income from the investment is used to support its purpose. Endowment funds support scholarships, fellowships, research studies, professorships, academic chairs, lecture series, library acquisitions, scientific and technical equipment purchases, capital improvements and more. Funds are invested and only the income from the investment is used. This preserves the donor's original gift in perpetuity, guaranteeing they will have an impact on the university for generations to come. The minimum size gift to establish an endowment is $25,000, which can be paid over a period of years. Endowments can be established in the donor's name, the name of their business, or in honor a favorite professor, parent, or spouse. Please contact the FSU Foundation's Endowed Gifts Coordinator to discuss how you might set up an endowment to COAPS.
---
Corporate and Foundation Relations
Philanthropic relationships with organizations. To ensure that COAPS can continue to fulfill its mission of excellence in education and research, we rely on private support from individuals and organizations that share our commitment. From hiring talented students and alumni to supporting cutting edge research and programs, partnerships with industry and private funders are critical to our continued success.
For Corporations: We strive to create mutually beneficial relationships between FSU-COAPS and our corporate partners and will work with you to make sure that your charitable giving goals are met, and that appropriate recognition is given for your support.
For Foundations: Support from private philanthropic foundations sustains a variety of COAPS programs and initiatives, including research, community outreach, and facilities.
The FSU Foundation is a 501 (c)(3) organization that was founded to help the University meet needs beyond those provided for by state support. We seek to establish and advance relationships with corporations and foundations that result in philanthropic benefit for COAPS. We work closely with the Office of the Vice President for Research and the Division of Sponsored Programs to identify funding opportunities and pursue gifts, philanthropic grants, and sponsored project support.
---
Matching Gifts
A way to multiply your generosity through your employer's matching gift program. You may be able to multiply your support for COAPS each year by making use of an employer's matching gift program. Many companies will match or multiply a donation made to charitable organizations through their matching gift programs. To find out if your company participates in such a program, ask your human resources department or search an online database of companies that match gifts.
---
TALK TO SOMEONE ABOUT SUPPORTING COAPS
Not certain how you want to allocate your support? Contact the FSU Foundation to discuss your options.