Extreme weather includes unexpected, unusual, unpredictable severe or unseasonal weather; weather at the extremes of the historical distribution—the range that has been seen in the past. Extreme events include heat waves, droughts, heavy downpours, floods, tornadoes, and hurricanes.
The state of Florida is prone to various types of weather extremes, with tropical cyclones being the most dangerous in terms of impact potential. Scientists at COAPS conduct diverse studies in the terrestrial and marine coastal regions. Research topics include sea-level variability, the effects of terrestrial freshwater flux (river discharge) on the ocean and offshore environment, and coastal climate.
---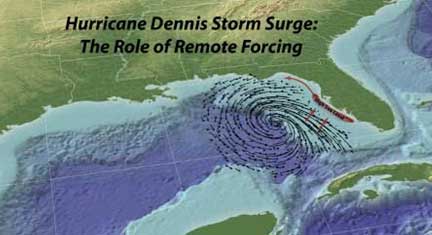 Storm Surge
For example, winds during Hurricane Dennis (2005) caused the sea level to rise along the Florida Peninsula, forming a coastally trapped wave. This wave was amplified by Dennis as it traveled to Apalachee Bay, and added several feet to the local wind-driven surge. New storm surge forecasting methods have been adopted to account for these remote effects.
---
Public Health
COAPS is part of the Florida Building Resilience Against Climate Effects (BRACE) Program, which is working to improve the ability of the public health sector to respond to health effects related to climate variability. This is done by incorporating the best available climate science into routine health practice.