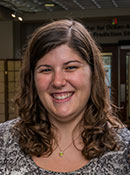 Assistant in Research
Center for Ocean-Atmospheric Prediction Studies
Rm. 254
(850) 645-2224 phone
This email address is being protected from spambots. You need JavaScript enabled to view it.
I am currently a Northern Gulf Institute Postdoctoral Scholar at COAPS and NOAA's Atlantic Oceanographic and Meteorological Laboratory (AOML) Hurricane Research Division in Miami, FL. My research focuses on improving the wind speed estimates retrieved by the Stepped-Frequency Microwave Radiometer, which is flown on the NOAA P-3 and Air Force C-130 hurricane hunter aircraft. This work began while I was obtaining my Ph.D. in meteorology at FSU under the advisement of Prof. Mark Bourassa from 2012–2016 and provided me with my first opportunities to fly with the NOAA Hurricane Hunters into Hurricane Ingrid (2013) and Hurricane Cristobal (2014).

I obtained my B.S. and M.S. degrees in meteorology from FSU in 2010 and 2012, respectively. I began working at COAPS in 2010 while I was pursuing my M.S. degree under Prof. Mark Bourassa. My master's work involved using scatterometers to identify gap wind jets in central America and how they contributed to the genesis of tropical cyclones in the eastern north Pacific basin.

My research interests are air/sea interaction, remote sensing, and tropical cyclones. I am currently serving on the AMS committee on Air-Sea Interaction.