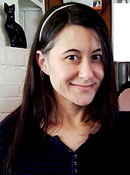 Professional Research Assistant
Center for Ocean-Atmospheric Prediction Studies
Off-site / REMOTE
This email address is being protected from spambots. You need JavaScript enabled to view it.
Born in Dallas, Texas, I gradually made my way up the east coast and landed in the pleasant community of North Haven, Connecticut, where I would formally say I "grew up". Science and logic bewitched me throughout secondary school, so I guess it wasn't much of a surprise when, in 2003, I received my bachelor's degree in Mathematics from the University of Massachusetts at Dartmouth. Then, in 2006, I completed my master's degree in the field of Meteorology with the Florida State University.
Soon afterwards I began my association with COAPS when I joined the SAMOS team, working under the project's chairman and director Shawn Smith. The SAMOS project involves gathering, quality-controlling, and archiving shipboard meteorological data, and has always provided me the vicarious thrill of ocean exploration. When not specifically focused on vessel data, I can be found getting my hands dirty in one research project or another here at COAPS, usually working in tandem with some of the brilliant students and resident scientists.
In my spare time I enjoy yoga, hiking, rollerblading, stargazing, and cooking as well as exploring the limits of the human mind and listening to psychedelic trance electronica. I am a happy vegan, and a devoted companion to a wonderfully complex cat.