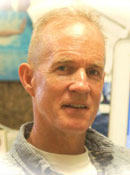 HWIND
Center for Ocean-Atmospheric Prediction Studies
Rm. 293
(850) 645-8816 phone
(850) 644-4841fax
This email address is being protected from spambots. You need JavaScript enabled to view it.
My research focuses on the hurricane, an episodic extreme event that is of upmost importance to the people of Florida. As a NOAA scientist stationed at COAPS, I investigate:
Metrics for hurricane impacts and forecasts model performance based on integrated kinetic energy,
Real-time and retrospective observation-based analysis of the hurricane surface wind field,
Surface roughness and drag coefficient behavior in tropical cyclones based on analysis of GPS dropsonde measurements,
Hurricane wind risk modeling (e.g. The Florida Public Hurricane Loss Model).
My outside interests include Rhodesian Ridgebacks, bicycle commuting, windsurfing, sailing, swimming, renewable energy, green building design, and native plants.