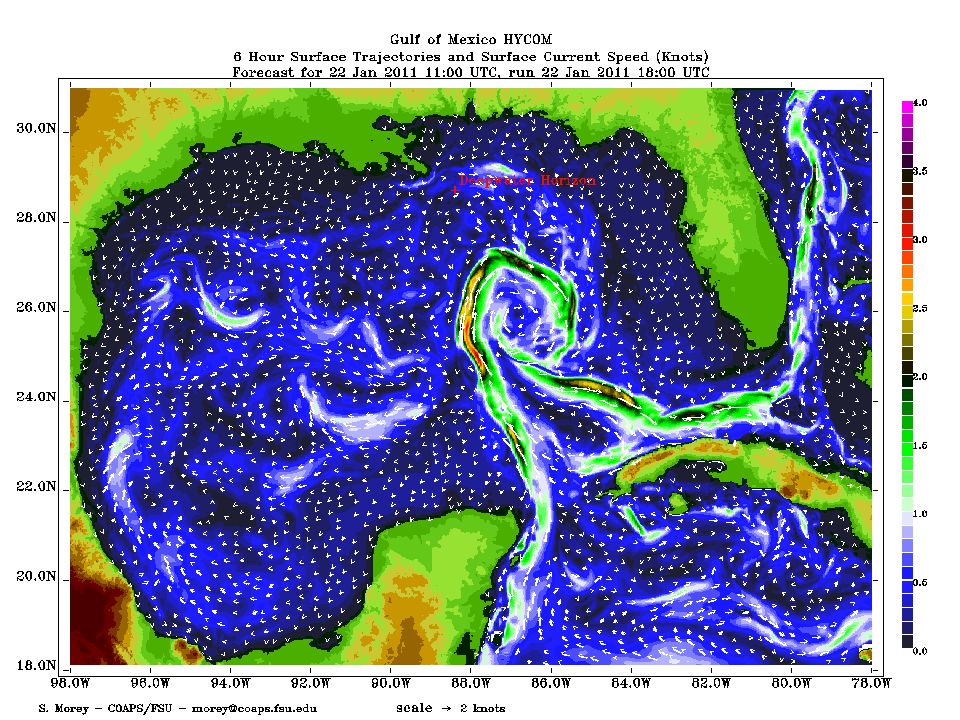 HYCOM is one of several modelling components that will be integrated into a framework
for simulating the interaction of petroleum with marine ecosystems
from its source along its eventual pathways. Source: https://hycom.org/

Posted October 9, 2017
In 2010, when an estimated 130 million gallons of oil flowed into the Gulf of Mexico from a damaged well below the Deepwater Horizon oil platform, scientists and first responders scrambled to predict where the released oil would go. The Gulf of Mexico was woefully understudied at the time, but subsequent research funded by the Gulf of Mexico Research Initiative (GOMRI) significantly improved the scientific community's understanding of the Gulf of Mexico circulation, ecology, and biogeochemistry. However, an important area where knowledge remains inadequate is the role that microbes play in determining the eventual fate of oil and its impact on our ecosystems.
It was recently announced that a multi-institutional team led by Florida State University (FSU) has been awarded a $2.8 million grant from GOMRI to study and develop new methods of simulating the interactions between microbes and oil. These processes are crucial for determining the fate of oil, and this study will lead to improvements in the response to and prediction of the impact of future spills. The Consortium for Simulation of Oil-Microbial Interactions in the Ocean (CSOMIO) will led by Dr. Eric P. Chassignet, Professor of Oceanography in the FSU Department of Earth, Ocean and Atmospheric Sciences (EOAS) and director of FSU's Center for Ocean-Atmospheric Prediction Studies (COAPS) with Dr. Steve Morey (COAPS Senior Scientist) as Scientific Director.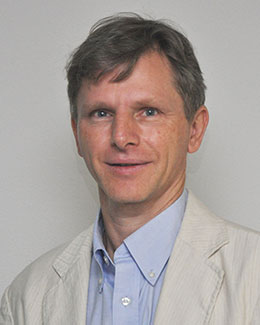 "CSOMIO is an interdisciplinary group consisting of experts in physical oceanography, ecology, biology, chemistry, and marine sediments," Chassignet said. "Our work will investigate how microbes influence the biodegradation and accumulation of petroleum in the water column and marine sediments of the deep ocean and shelf."
Florida State University, HR Wallingford, Texas A&M University, the University of Delaware, the University of Maryland, and the Virginia Institute of Marine Science comprise the new consortium. Scientists from these six institutions will use recent model developments and results from field- and laboratory-based microbial and sediment studies to develop simulations to investigate the impacts of potential future oil spills under different scenarios and conditions (temperatures, oxygen levels, particulate matters, and transport).
"It is critical to have the ability to predict the eventual fate of oil and its impact on ecosystems because toxic oil constituents pose unknown threats to organisms, many of which are harvested in the Gulf for human consumption. There's also a greater likelihood of large spills in the future due to oil and gas extraction activities taking place over the shelf and increasingly in deep water," said Chassignet.
Other members on the FSU team include Dr. Dmitry Dukhovskoy (Associate Research Scientist, COAPS), Tracy Ippolito (Program and Outreach Coordinator, COAPS), Dr. Olivia Mason and Dr. Mike Stukel (Assistant Professors of Oceanography, EOAS).